Modified Jul 25, 2023 Reading Time about 1 minutes
Tolo Beach is a popular destination for locals and tourists alike, located in the small village of Tolo, approximately 12 km southeast of Nafplio. It is only a 15-minute drive from Nafplio and is a hub for summer activities. The beach is divided into three distinct parts, with the left side being the most popular for swimming, offering golden sand and a variety of water sports options. The middle part is a mix of sand and small stones and is lined with restaurants and cafes, while the right side leads to the main port of Tolo.
Visitors can also enjoy the view of two islands in the Gulf, with the middle rocky island called "Karonisi" being a popular destination for kayaking or cycling trips. The larger island to the right is known as "Romvi" and boat trips can take visitors to the secluded "Romvi Beach" on the island's southern side.
Tolo Beach offers a variety of dining options, from traditional taverns to cafes and bars, as well as accommodation options with balconies that offer stunning views of the Argolic Gulf. The shallow and sandy sea, with a few pebbly areas, makes it an ideal spot for children to play in the warm and clear waters.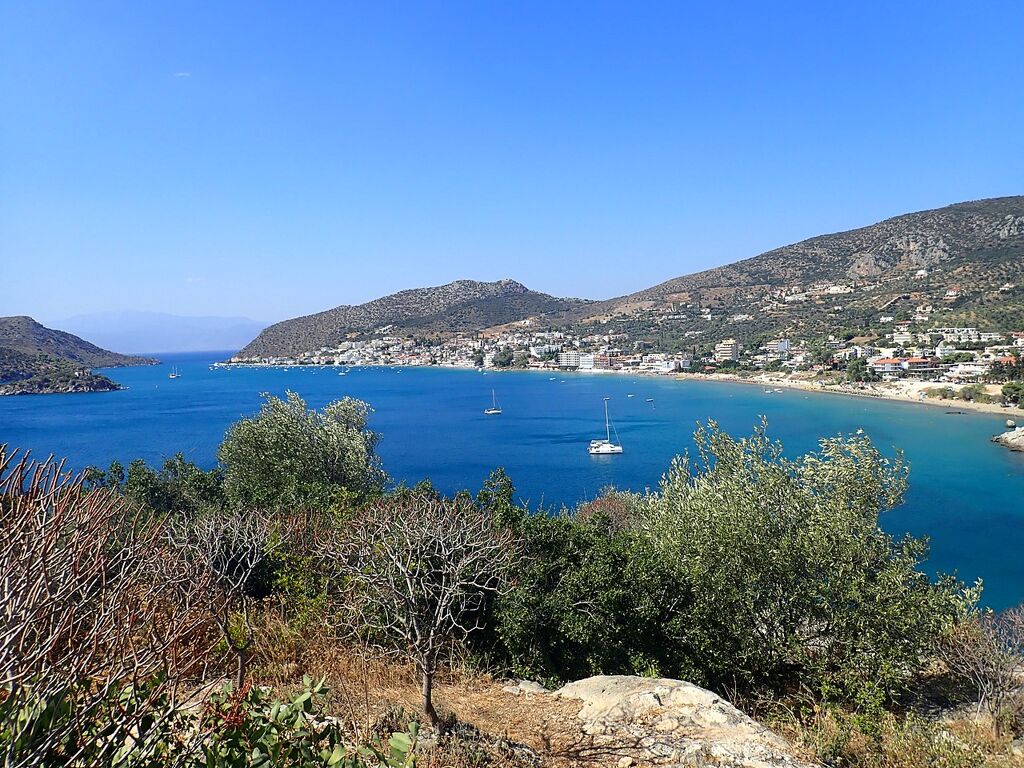 The beach is fully equipped with cafes, restaurants, chair and parasol rentals, showers, a playground, and modern water sports amenities. It can be easily reached by foot or by personal vehicle, and there is ample free parking along the road.
To get to Tolo Beach from Nafplio, you can follow these directions:
By car:
Take the National Road (Ethniki Odos) 7 towards Argos
After 10 km, take the exit towards Nafplio and follow the signs to Tolo
Once you reach Tolo, follow the signs to Tolo Beach
By bus:
Take the KTEL bus from the Nafplio bus station towards Tolo
Get off at the Tolo bus stop and walk towards Tolo Beach (about 500 m)
By taxi:
You can take a taxi from Nafplio to Tolo Beach
Make sure to confirm the fare with the taxi driver before you start your journey.
Note: Tolo Beach is located in the village of Tolo, which is about 11 km from Nafplio.
In Tolo, there is a wide range of hotels available, including some that are situated directly on the beach. Here is a list of highly recommended hotels in Tolo:
King Minos Hotel
The King Minos Hotel is located in a prime location, with breathtaking panoramic views of Tolo Bay. This stunning hotel provides guests with a variety of luxurious accommodations, ensuring that every traveler feels comfortable and at home. Whether guests...
Flisvos Royal
Flisvos Royal Hotel in Tolo is a luxurious and modern hotel that combines comfort and style to provide travelers with the ultimate Greek island experience. The hotel is located in the stunning coastal town of Tolo, in the Peloponnese region of Greece,...
Tolon Holidays Hotel
Luxurious 4-star hotel located just 100 meters from Tolo's sandy beach Psili Ammos. This hotel boasts a variety of amenities to ensure a comfortable and enjoyable stay for all guests. Whether you're looking for a relaxing beach vacation, or a business...
Hotel Apartments Panorama
Panorama is a wonderful place to stay in Tolo. The hotel is situated at the foot of a hill, just 250 meters from the sea and only a few meters away from the village center. It is just 10 minutes from the city of Nafplio, making it the perfect base for...