Modified Feb 17, 2023 Reading Time about 1 minutes
Karathona Beach, located just a few miles south of Nafplio, is a popular destination for travelers seeking a peaceful and family-friendly beach experience. The beach boasts a picturesque horseshoe shape and is composed of soft golden sand, making it an ideal place to lounge, soak up the sun, and take a refreshing dip in the calm and shallow waters.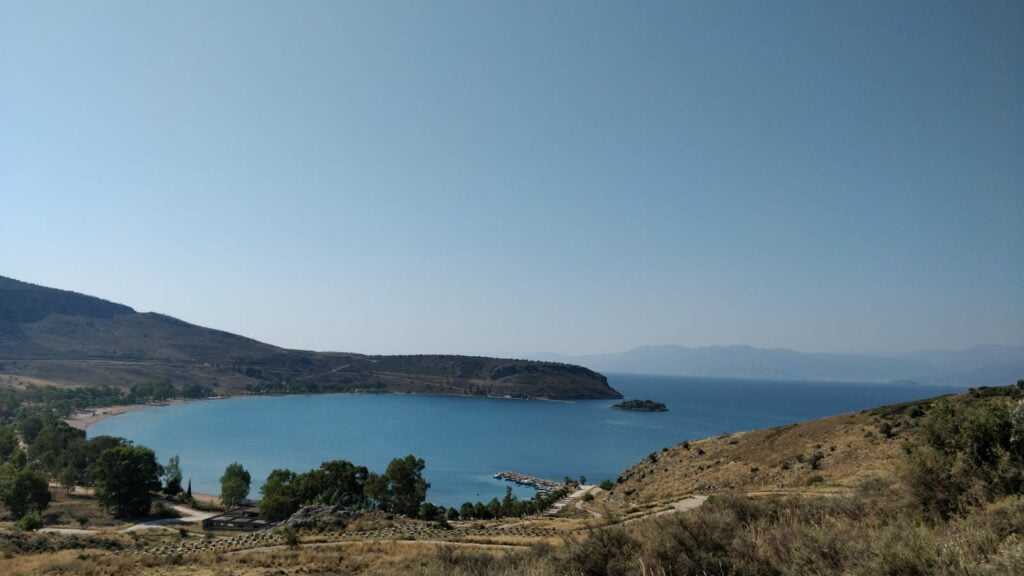 Before heading out to the water, visitors can take advantage of the on-site changing facilities and rent a deck chair or parasol for added comfort. The seabed is mostly sandy and the waters remain shallow, making it safe for children to play and swim. In addition to sunbathing and swimming, visitors can also explore the surrounding area and discover local plant species such as palms and eucalyptus. The nearby walking paths offer breathtaking views of the surrounding hills and lead to charming little churches, including the striking Panagitsa church on the hill above the beach. It's recommended to bring water with you as there are no water sources available on the walking trails.
When it's time to relax and refresh, visitors can head to one of the many tavernas and cafés located along the beachfront. These establishments offer a variety of drinks and food options, although it's worth noting that most are only open during the summer months. Before leaving the beach, visitors can rinse off any remaining sand at the shower facilities and use the toilets if needed.
Getting to Karathona Beach is easy and convenient, with a large car park located just a 10-minute drive away. For those looking for a more active option, a walking path along the coast can be accessed from Arvanitia Square, taking approximately 45 minutes to reach the beach. In the summer, a bus route connects the beach to Nafplio for added convenience.