From Nafplio to Porto Heli
Modified Jul 10, 2023 Reading Time about 4 minutes
If you find yourself in Nafplio, and are craving a delightful day trip to soak in the sun, indulge in coastal beauty, and experience the laid-back Mediterranean lifestyle, Porto Heli awaits. Join us as we embark on a picturesque journey from Nafplio to Porto Heli, where pristine beaches, charming seaside villages, and azure waters create an unforgettable escape.
Departing from Nafplio:
Start your day trip from Nafplio by taking a scenic drive along the eastern coast of the Peloponnese peninsula towards Porto Heli. The journey takes approximately one hour, offering glimpses of breathtaking coastal landscapes and the azure waters of the Argolic Gulf.
Welcome to Porto Heli:
As you arrive in Porto Heli, you'll be greeted by a picturesque coastal town that combines natural beauty with a relaxed atmosphere. The town's horseshoe-shaped bay, fringed by sandy beaches and turquoise waters, sets the stage for a perfect day of relaxation and exploration.
Beach Bliss in Porto Heli:
Porto Heli boasts a collection of stunning beaches, each with its own unique character. Spend your morning soaking up the sun and taking refreshing dips in the crystalline waters. Some popular beach options include Ververonda Beach, Kounoupi Beach, and Hinitsa Beach. Whether you prefer sandy shores or secluded rocky coves, there's a spot in Porto Heli to suit every beach lover's taste.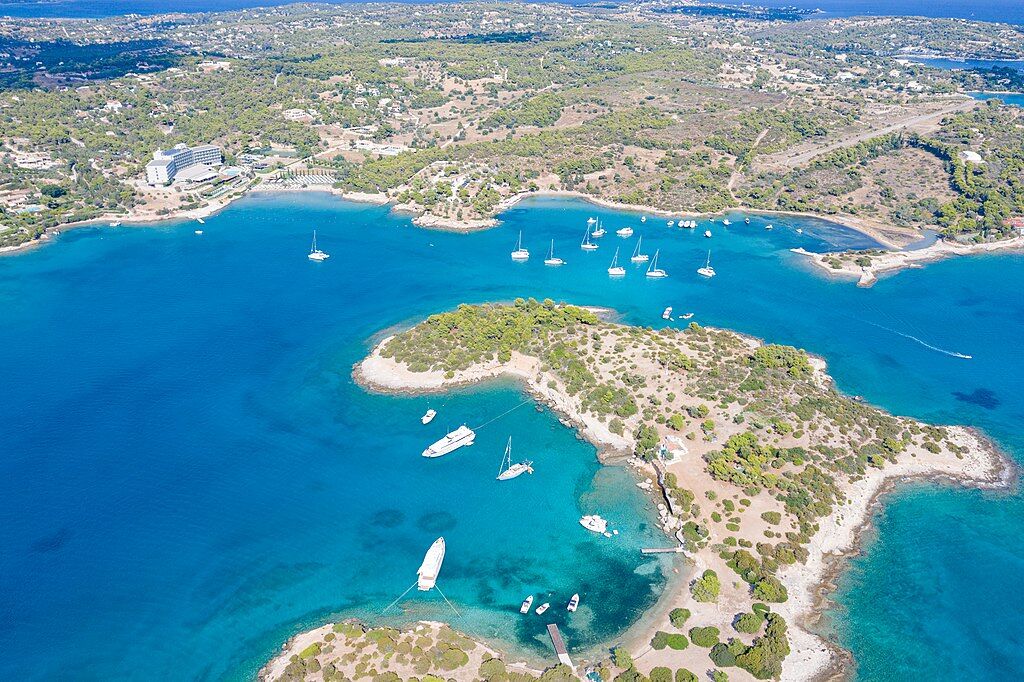 Seaside Promenade and Marina:
Take a leisurely stroll along the waterfront promenade of Porto Heli, which offers breathtaking views of the bay and the charming marina. Admire the luxury yachts and sailboats as they sway gently in the harbor. Stop by the numerous cafes and seaside tavernas to enjoy a delicious lunch featuring fresh seafood and traditional Greek cuisine.
Exploring the Island of Spetses:
From Porto Heli, you have the option to embark on a short boat trip to the nearby island of Spetses. Known for its cosmopolitan flair, elegant mansions, and car-free streets, Spetses offers a unique blend of history and charm. Rent a bicycle or a horse-drawn carriage to explore the island's hidden gems, such as the picturesque old harbor, Dapia, and the historic Poseidonion Grand Hotel.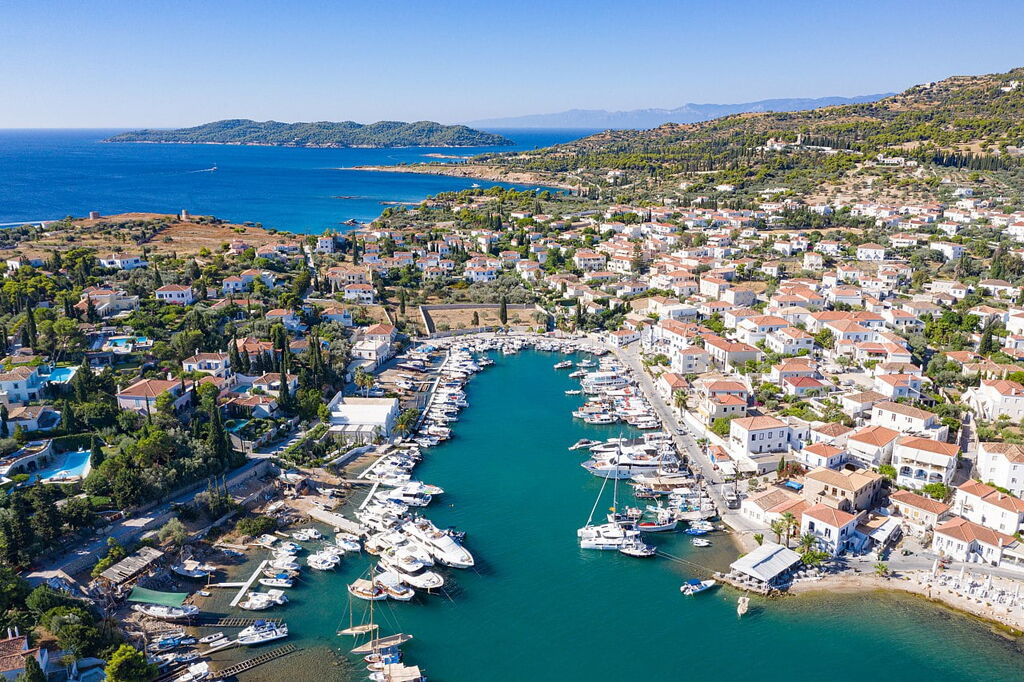 Cultural Excursion to Ermioni:
Another nearby destination worth exploring is the charming town of Ermioni, located a short distance from Porto Heli. Known for its authentic Greek atmosphere, Ermioni features traditional houses, narrow alleys, and quaint waterfront cafes. Visit the Church of Agios Emilianos, explore the local markets, and savor traditional delicacies at local tavernas.
Watersports and Outdoor Activities:
For the adventurous souls, Porto Heli offers a range of exciting water activities. Rent a kayak or paddleboard and venture into the calm waters of the bay. Alternatively, experience the thrill of water skiing, wakeboarding, or even take a boat tour to nearby islands and hidden coves. The crystal-clear waters and favorable wind conditions make Porto Heli a paradise for water sports enthusiasts.
Sunset Magic:
As the day draws to a close, find a cozy spot along the coastline or at a seaside taverna to witness the breathtaking sunset over the Argolic Gulf. The vibrant hues painting the sky create a magical ambiance, casting a spell of tranquility and serenity over Porto Heli.
Getting from Nafplio to Porto Heli is a straightforward and enjoyable journey. Here are a few transportation options to consider:
By Car:
If you have access to a car or prefer the flexibility of driving, the most convenient way to reach Porto Heli from Nafplio is by road. The distance between the two destinations is approximately 55 kilometers (34 miles), and the journey takes approximately one hour, depending on traffic conditions. Follow the route along the eastern coast of the Peloponnese peninsula, enjoying scenic views of the Argolic Gulf along the way.
By Public Bus:
Public buses offer a budget-friendly option for traveling from Nafplio to Porto Heli. The KTEL bus service operates regular routes between the two towns. Check the bus schedule in advance, as departure times may vary depending on the season. The journey typically takes around one to one and a half hours. Buses depart from the Nafplio KTEL bus station and arrive at the central bus station in Porto Heli.
By Taxi:
Taxis provide a convenient and comfortable means of transportation from Nafplio to Porto Heli. Taxis are readily available in Nafplio, and you can either hail one on the street or request a taxi from your hotel. It's advisable to negotiate the fare with the driver beforehand or ensure that the taxi meter is used. The journey typically takes around one hour, depending on traffic conditions.
Private Transfers:
For a more personalized experience, you can arrange a private transfer from Nafplio to Porto Heli. Several companies and tour operators offer private transfer services with professional drivers who can pick you up from your accommodation in Nafplio and drive you directly to Porto Heli. This option provides convenience and comfort, and the duration of the journey will depend on traffic conditions.
Once you arrive in Porto Heli, you can explore the town and its surrounding areas on foot, rent a bicycle or scooter, or hire a car to make the most of your time in this beautiful coastal destination.
Remember to plan your transportation in advance, especially during peak seasons, to ensure availability and a smooth journey from Nafplio to Porto Heli. Enjoy your trip and savor the delights of this charming coastal town!

A day trip from Nafplio to Porto Heli promises an enchanting journey through coastal beauty, sun-drenched beaches, and a relaxed Mediterranean atmosphere.