Modified Jul 10, 2023 Reading Time about 3 minutes
Embarking on a Greek island adventure is a dream come true for many travelers. If you're in Nafplio and craving the sun-drenched shores and idyllic landscapes of Hydra, we've got you covered. In this guide, we'll walk you through the various transportation options and provide valuable tips on how to get from Nafplio to Hydra seamlessly. Get ready to experience the magic of island life!
Ferries from Nafplio to Hydra:
One of the most convenient ways to travel from Nafplio to Hydra is by ferry. Although there are no direct ferries connecting the two destinations, you can easily reach Hydra via the nearby port town of Ermioni. From Nafplio, take a taxi or bus to Ermioni, which is approximately a 1-hour drive away.
Nafplion to Hydra Ferry - Times, Tickets & Prices
Exploring Ermioni:
As you make your way to Ermioni, take the opportunity to explore this charming coastal town. Stroll along the picturesque waterfront promenade, indulge in fresh seafood at local tavernas, and soak in the laid-back atmosphere. Ermioni serves as a gateway to Hydra, and you'll find regular ferry services departing from its port.
Ferry Options from Ermioni to Hydra:
In Ermioni, head to the port area where you'll find ticket booths and schedules for the ferries to Hydra. During the peak season (April to October), multiple ferry companies operate services to Hydra, ensuring frequent departures throughout the day. The ferry ride from Ermioni to Hydra takes approximately 30-40 minutes, depending on the vessel and sea conditions.
Ermioni to Hydra ferry tickets, compare times and prices
Planning Your Ferry Schedule:
To ensure a smooth journey, it's advisable to check the ferry schedules in advance. Although schedules are subject to change, ferries generally depart from Ermioni to Hydra in the morning and continue throughout the day until the evening. Be sure to arrive at the port a little earlier to secure your tickets and enjoy a stress-free boarding process.
Enjoying the Ferry Ride:
As you set sail from Ermioni to Hydra, relish the scenic beauty of the Saronic Gulf. Feel the refreshing sea breeze on your face and gaze at the sparkling blue waters. Hydra's stunning coastline will gradually come into view, enticing you with its charming harbor and traditional architecture. Don't forget to have your camera ready for postcard-worthy snapshots!
Alternative Transportation Options:
If you prefer a more private and tailored journey, you can consider hiring a water taxi or chartering a private boat from Nafplio to Hydra. Water taxis offer a direct transfer between the two destinations and can be a convenient option for groups or travelers seeking a more personalized experience. However, do note that these options may be more expensive than the regular ferry service.
Exploring Hydra at Your Own Pace:
Once you arrive at Hydra's harbor, get ready to immerse yourself in the island's captivating atmosphere. With no motorized vehicles allowed on the island, embrace the unique charm of Hydra by exploring on foot or renting a bicycle. Wander through the narrow cobblestone streets, discover hidden alleys, and revel in the peaceful ambiance that sets Hydra apart from other Greek islands.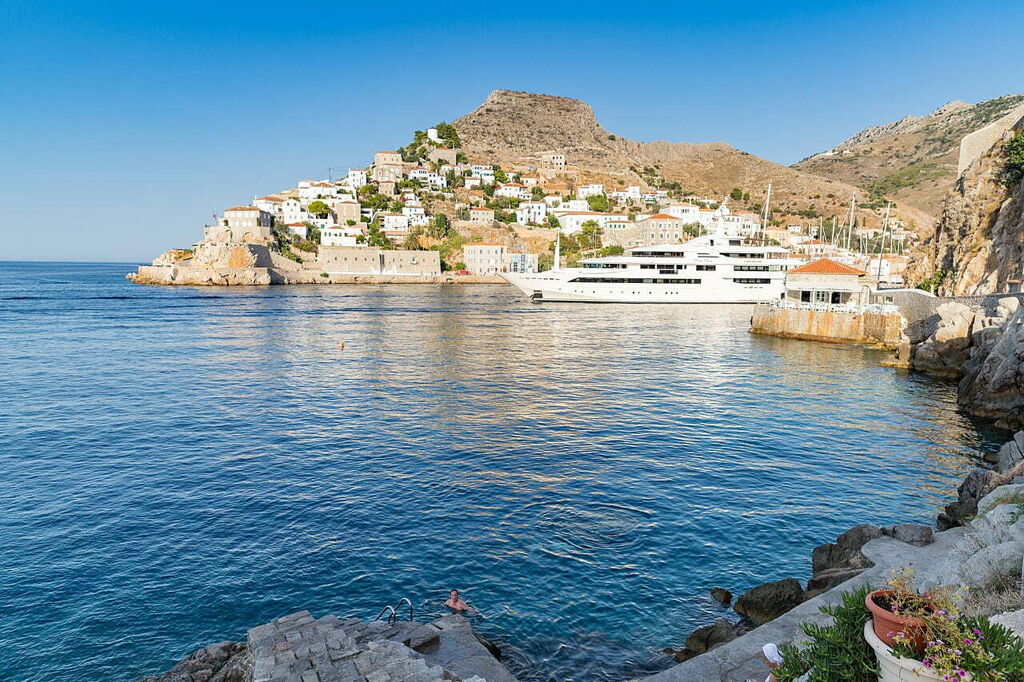 Traveling from Nafplio to Hydra opens up a world of beauty and tranquility. Whether you choose to sail on a ferry, opt for a private water taxi, or charter a boat, the journey itself becomes part of the adventure. Once you arrive in Hydra, be prepared to fall in love with its serene beaches, traditional architecture, and rich cultural heritage. Enjoy your island escape, and create memories that will last a lifetime.