Modified Jul 10, 2023 Reading Time about 3 minutes
Tolo is a former fishing village on the Peloponnese peninsula that has become a popular tourist destination. It has a rich history dating back to the time of Homer and was a safe haven for ships, including serving as a port for the Venetians during their war with the Ottomans. Founded as a settlement for Cretan refugees after the Greek Revolution, the town grew into a thriving fishing village and tourist town. Tolo boasts a stunning beach ideal for water sports, swimming, and fishing, as well as a lively atmosphere with tavernas and bars, making it a great holiday destination for families.
Tolo is located in the Argolida region on the Peloponnese peninsula, southwest of Athens, connected by the Isthmus of Corinth. The Peloponnese offers a glimpse into the past with its rugged mountains, coastal villages, and friendly locals, many of whose regions have unchanged boundaries since antiquity. The Argolida is easily accessible from Athens and is known for its citrus groves and historical sites such as Epidaurus, Asine, Tiryns, Mycenae, and Argos, which date back to the Mycenaean and Roman eras.
The best way to reach Tolo is by car, as the roads from Athens are good and well-marked. Alternatively, one can arrange for a private transfer or hire a driver. For budget-conscious travelers, taking the public bus from Athens to Nafplio, then changing for the bus to Tolo, is a cost-effective option with buses operating from early morning to early evening. Alternatively, a taxi from Nafplio to Tolo costs around 15€.
In Tolo, you have the opportunity to experience a wide range of activities, from exploring archaeological sites and historical landmarks to indulging in adventure sports like diving or water skiing, or discovering the local Greek cuisine, olive oil production, and wine-making techniques.
Tolo's bay is a vibrant and underexplored diving destination teeming with colorful marine life, shipwrecks, underwater caves, and more. The town has a dive shop that can cater to all your diving requirements.
Discovering the Bay of Tolo by sailboat is one of the best ways to experience its beauty. Rent a sailboat with a skipper and enjoy a hassle-free day at sea. With a day charter, you can tour the nearby islands or opt for a 2-3 day hire to visit destinations such as Hydra, Spetses, and other islands in the vicinity.
You can take part in a group boating excursion to a neighboring island for a barbecue feast. Savor the laid-back atmosphere of the cruise, spend time at the beach swimming or snorkeling, and then relish in traditional Greek dishes such as grilled lamb or chicken, Greek salad, and tzatziki, all prepared by the skipper. The cost of the trip includes wine and beer.
The charming Agia Kyriaki Church is situated a mere 5 minutes' walk from the center of Tolo, atop a hill. The church is a quaint white-washed structure, offering stunning panoramic views of Romvi and Koronisi islands, the Bay of Tolo, and the surrounding coastline. The breathtaking vistas make the climb well worth it, however, if you prefer to drive, there's a small parking area available.
Tolo is renowned for its expansive sandy beaches, the most popular of which is Psili Ammos. This main beach extends from the town center to the headland and is dotted with tavernas, cafes, bars, and an array of accommodation and shopping options. Parking can be found along the main road or, if you prefer, it's a convenient walk from town.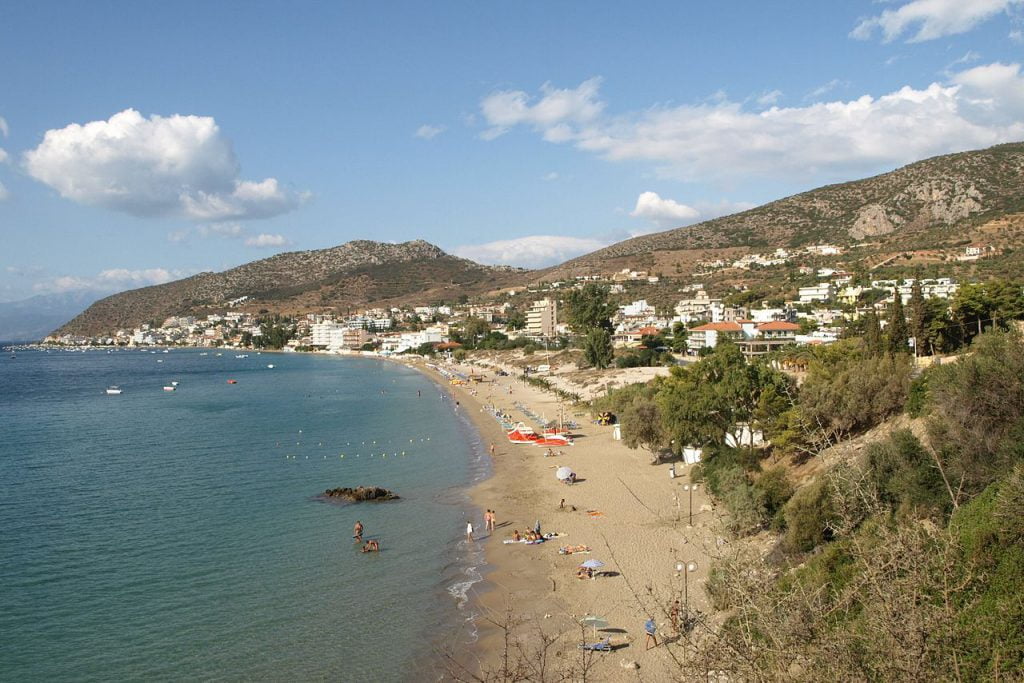 For a more secluded beach experience, head to Kastraki. Located to the west of town near the ruins of Ancient Asine, Kastraki is a small pebbled beach with no amenities, so make sure to bring your own food and drinks.
Take part in thrilling water sports activities! With numerous beaches to choose from, Tolo is also home to various water sports. With "Water Sports Tolo," you can enjoy water skiing, tubing, wakeboarding, paddle boarding, or even rent a banana boat for a fun group activity.
If you're looking for a hotel in Tolo, there are plenty of options to choose from. Whether you prefer a luxury resort or a budget-friendly option, Tolo has something for everyone. In this article, we'll take a look at some of the best hotels in Tolo, Greece.
King Minos Hotel
The King Minos Hotel is located in a prime location, with breathtaking panoramic views of Tolo Bay. This stunning hotel provides guests with a variety of luxurious accommodations, ensuring that every traveler feels comfortable and at home. Whether guests...
Flisvos Royal
Flisvos Royal Hotel in Tolo is a luxurious and modern hotel that combines comfort and style to provide travelers with the ultimate Greek island experience. The hotel is located in the stunning coastal town of Tolo, in the Peloponnese region of Greece,...
Tolon Holidays Hotel
Luxurious 4-star hotel located just 100 meters from Tolo's sandy beach Psili Ammos. This hotel boasts a variety of amenities to ensure a comfortable and enjoyable stay for all guests. Whether you're looking for a relaxing beach vacation, or a business...
Hotel Apartments Panorama
Panorama is a wonderful place to stay in Tolo. The hotel is situated at the foot of a hill, just 250 meters from the sea and only a few meters away from the village center. It is just 10 minutes from the city of Nafplio, making it the perfect base for...
Read More
Tolo Beach

Tolo Beach is a popular destination for locals and tourists alike, located in the...

Kantia

Kantia is a small coastal village located on the east coast of the Peloponnese peninsula...

Kondyli beach

Kondyli beach is a beautiful coastal area located just a short distance from Nafplio...